» KO » Downloads
Downloads
Krita on Windows
Krita
Krita is the full-featured digital paint studio for artists. Krita is available on Windows and Linux. This page only contains Windows downloads. See krita.org for information about Linux. There are three versions of Krita available:
Krita Desktop: a free download of Krita with a full set of features.
Krita Gemini: optimized for ultrabooks with touch screens and tablets. Change between tablet mode and laptop mode at the touch of a button.
Krita Studio: supported by KO GmbH, offers additional powerful features for VFX studios, like HDR painting and OpenColorIO integration. Contact sales for more information. Krita Studio is also supported on RHEL 6 and Ubuntu 12.04 and 13.04.
The Krita Foundation is running a kickstarter campaign right now for the development of Krita 2.9!
You can also get Krita Gemini on Steam! That will give you integration with the Steam platform and automatic updates.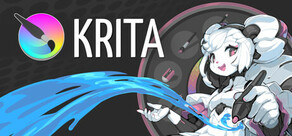 For more information about Krita see the KO GmbH support pages for Krita or the Krita community website.
Krita Desktop
The 64 bits version is recommended.
Krita Gemini
Krita Gemini is a version of Krita optimized for ultrabooks that can morph from desktop to tablet mode and back. Move seamlessly from between touch mode and desktop mode. There are two versions: for 32 and 64 bits Windows (Vista and up). The X64 build supports AVX2 on Haswell systems for extra performance. Krita Gemini was demoed by Douglas Fisher at the IDF 2013
Calligra
KO GmbH provides a highly experimental MSI installer for the Calligra Suite on Windows for testing. Currently, Words, Stage and Sheets, Flow, Braindump, Karbon and Krita are included in the package.
Please note that these packages are not yet suitable for daily use. They are meant as a proof-of-concept of work in progress. The installer as well as the software will be refined before the project is over. If you have any problems with the installer, please contact us on irc: #calligra on irc.freenode.org.
This includes the "core" applications (Words, Sheets and Stage), as well as the majority of the others, with the exceptions of Krita and Kexi. Krita is available in a seperate installer.
Calligra Suite 2.6.2
This is the most recent build of the 2.6 branch, incorporating the latest features and bug fixes. This is updated frequently and the internal version number is shown for comparison.
Download Calligra Suite 2.6.2.2
For verification, the SHA1 is: 95d8bb48295f2dbd63ee71dcde0de0d08e9db4de
Installation
Note that you may have to use the latest Windows installer from Microsoft. If the installation does not work you can try to update Windows installer first.
To install, download the right package, double click on it in the file browser and follow the instructions on the screen.
Reporting Bugs and Getting Help
Krita is a KDE project. If you find bugs, please report them to the KDE bug tracker.
You can find more information on Calligra on the Calligra website. You can discuss the Calligra installer on #calligra on irc.freenode.net, the Calligra mailinglist or the Calligra forums.
You can find more information on Krita on the Krita website. You can discuss the Krita installer on #krita on irc.freenode.net, the Krita mailinglist or the Krita forums.
The work on porting Calligra to Windows and creating the installer has been sponsored by the NLnet foundation.
For questions, please contact calligra@kogmbh.com.
License and Source Code
Krita is released under the GNU Public License, version 2 or later. Source code is available from projects.kde.org/calligra.